GEEK EYEWEAR® Shared the Stage With Musicians and Celebrities at KROQ 2014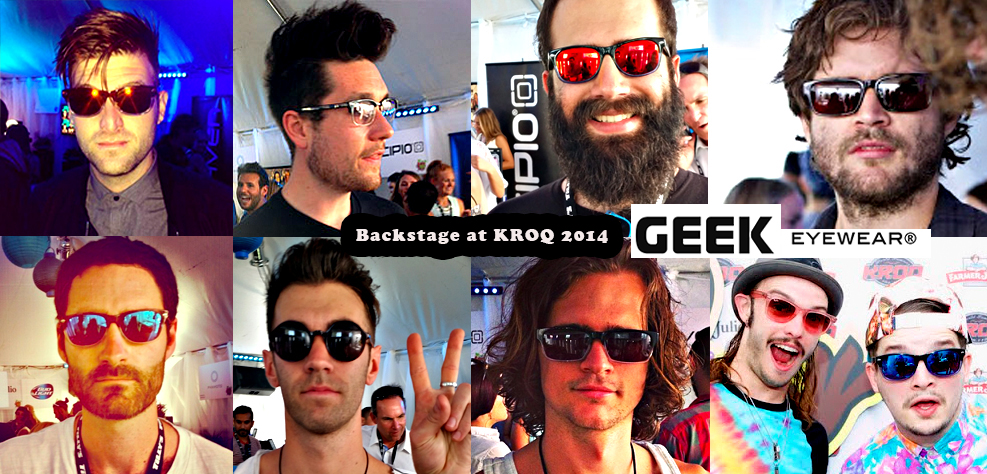 Jacob Fink - Foster The People, Dan Smith from Bastille, Sebu Simonian - Capital Cities, Jesse Kongos, Ryan Merchant - Capital Cities, Zac Barnett - American Authors, Dylan - Kongos, Jason Hubert and Jordan Kelley - Cherub
GEEK EYEWEAR® Shared the Stage With Musicians and Celebrities at KROQ 2014
Los Angeles, CA (PRWEB) June 12, 2014
A new generation of music lovers filled the Verizon Wireless Amphitheater last weekend for the 2014 Weenie Roast hosted by the world famous radio station KROQ. Those who were lucky enough to get tickets to the sold out show got to join an epic hours of music, fashion, and dancing. GEEK EYEWEAR® was one of the biggest hits of the event. The brand, founded in 2008 by Alena Lehrer, was popular among the bands as stars and fans alike continue to embrace the "sexy, funny, nerd look".
"I'm a huge music fan," Alena Lehrer admits, and "it was awesome being invited backstage and hang-out with people who have been rocking this look nearly as long as I have." Everything we put on is a fashion statement in one way or another. And when it comes to music, people love electronic dance music and the enthusiasm has spilled over into the indie-pop world. The marriage of music and eyewear is inevitable.
One major trend that was showing up on stage was GEEK EYEWEAR®. Musicians and celebrities were sporting their geeky glasses at the event.
CAPITAL CITIES lead singer, Sebu Simonian, wore GEEK EYEWEAR® style Rad 09 on stage during the band's performance. CAPITAL CITIES, the indie pop duo from Los Angeles, CA, is known for their positive, fresh sound, and for having a fun quirky style. Their hit song "Safe and Sound" got the crowd's feet moving, and their look made a big impression.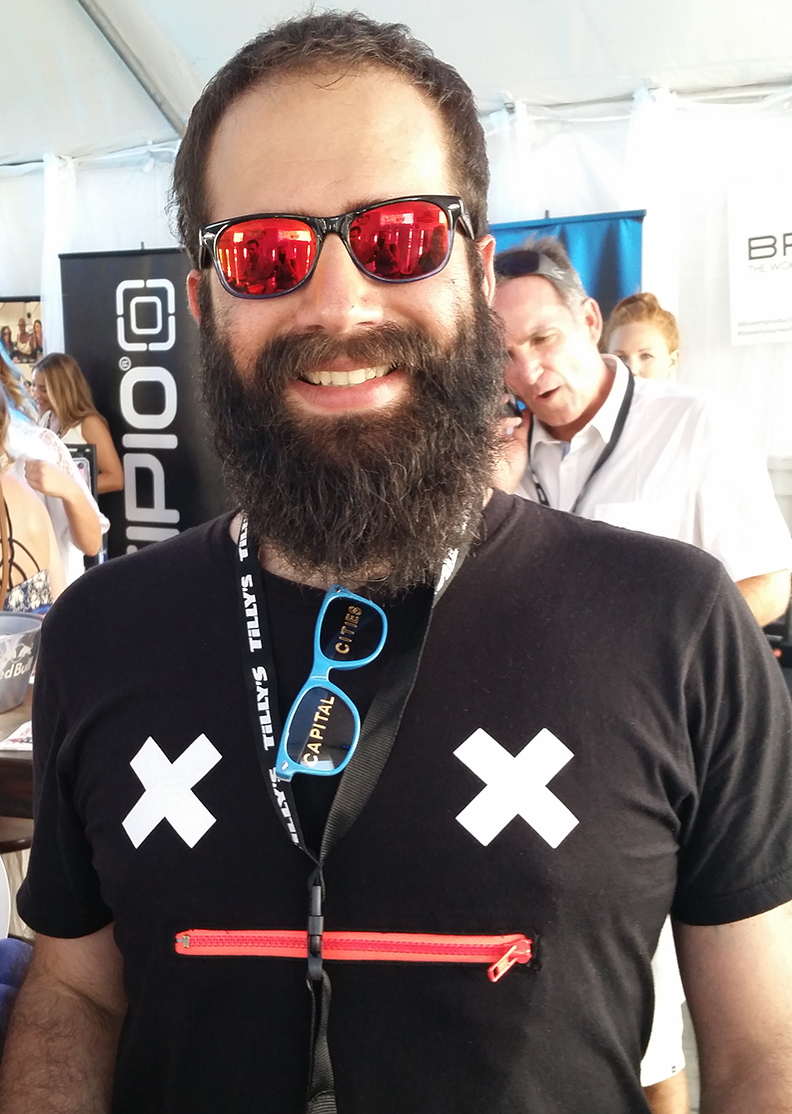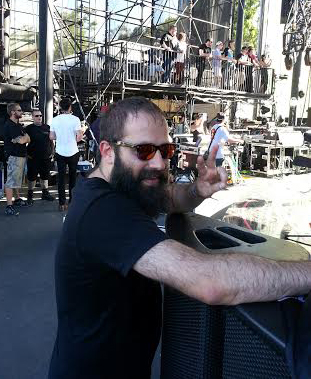 As always, fashion plays a huge part of telling the message. Stylish Ted Stryker who is a KROQ radio nerd (DJ) by day and a super star by night was rocking nerdy look. His message was "I love their glasses."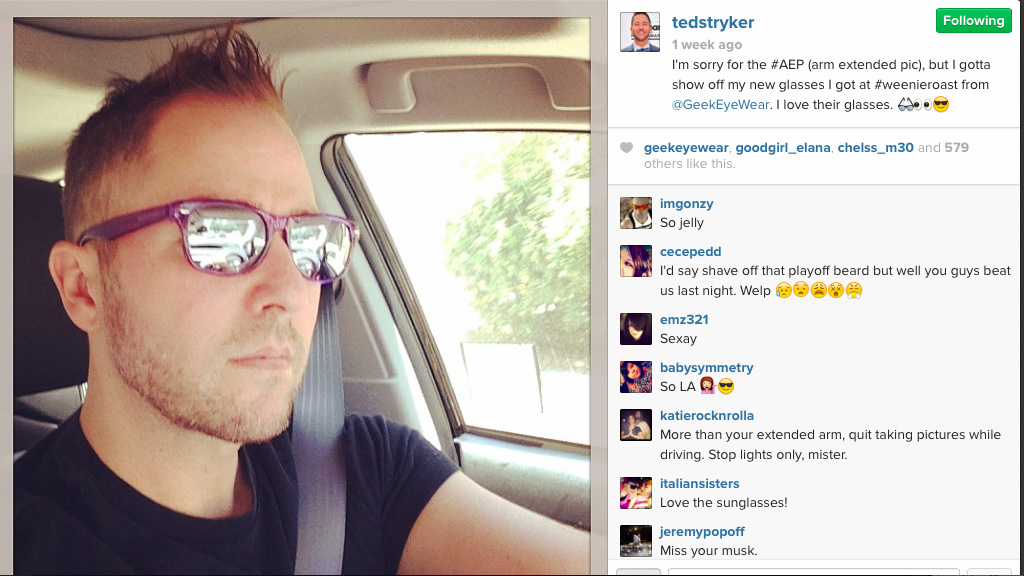 The lead singer of popular British band BASTILLE was also spotted wearing GEEK EYEWEAR®. Lead singer/songwriter Dan Smith chose the 201 style, and looked just as natural in them backstage at a major rock concert as he would at home playing video games. There's no "Bad Blood" with BASTILLE, the British band whose debut album Bad Blood landed at #1 on the UK charts and #11 on the Billboard 200 with songs like their breakout hit, "Pompeii." The band was formed in London in 2010 by singer-songwriter Dan Smith. BASTILLE put on an amazing performance. Besides playing hits such as "Pompeii," and "Bad Blood" the band thrilled audiences with songs from their latest release, "Blame" which they debuted at the Heineken Music Hall in Amsterdam earlier this year and covered Snap!'s "Rhythm Is a Dancer."
Jordan Kelley from CHERUB was also in on the GEEK EYEWEAR® trend. Jordan and his fellow Cherub performer Jeremy sported glasses during Weenie Roast. CHERUB brought a dance party like atmosphere to the show. The absurdist electro-pop artists just released their début studio album, Year of the Caprese, and a totally NSFW video for their hit single, "Doses and Mimosas." The opening band of the day, the duo brought a huge crowd of screaming fans.
AMERICAN AUTHORS was up. The American rock band based in NYC are best known for their single "Believer" from their album Oh, What a Life. Zac Barnett is the lead singer of AMERICAN AUTHORS whose song, "Best Day of My Life" reached #11 on the US Billboard Hot 100. Cool and sexy Barnett looked sharp wearing round shaped specs from GEEK EYEWEAR®.
"We are huge fans of CAPITAL CITIES, BASTILLE, AMERICAN AUTHORS, CHERUB, and KONGOS and loved hanging out with them last weekend." Looking forward to KROQ 2015.:
GEEK EYEWEAR® emerged eight (6) years ago "to create a global community for all types of geeks willing to share their ideas, skills, passion, and fashions with others. The eyewear line was an instant hit with musicians starting with GEEK EYEWEAR®'s early affiliations with groups such as the punk band BAD RELIGION and musicians Josh Smith and Jamie Meyers.
For more exclusive celebrity pics from KROQ, please check GEEK EYEWEAR®'s Instagram page.
ABOUT GEEK EYEWEAR® HIP. COOL. TRENDY. SEXY. CHIC. URBAN.
GEEK EYEWEAR® embraces the Geek in every one of us, with a range of styles for men, women, teens and kids. The brand offers a wide variety of frames in over 40 different styles in thousands of stores throughout the US and online at the brand's one-stop-shop – http://shop.geekeyewear.com. Online, consumers have the option of ordering RX glasses, sunglasses or ready-to-wear (RTW) fashion eyewear without a prescription. The RTW fashion frames are clear lenses, ideal for the stylish consumer who wants to look smart and fashionable.