Check out what our friends/fans/customers are saying about their GEEK EYEWEAR Experience:


Linda J. February 6, 2019
Actress: Black Panther, Strange Days at PRE GOLDEN GLOBES DPA LOUNGE, LUXE HOTEL, Los Angeles JANUARY, 2019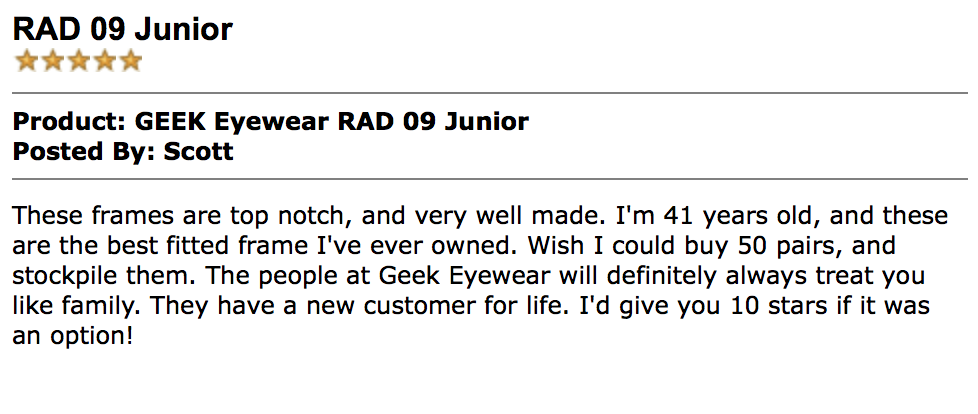 Sharp-Looking Kellan Lutz spotted wearing style VO2 from
Victor Ortiz Signature Collection by GEEK EYEWEAR®.
ROBERT OCHOA in Geek Eyewear style Quantum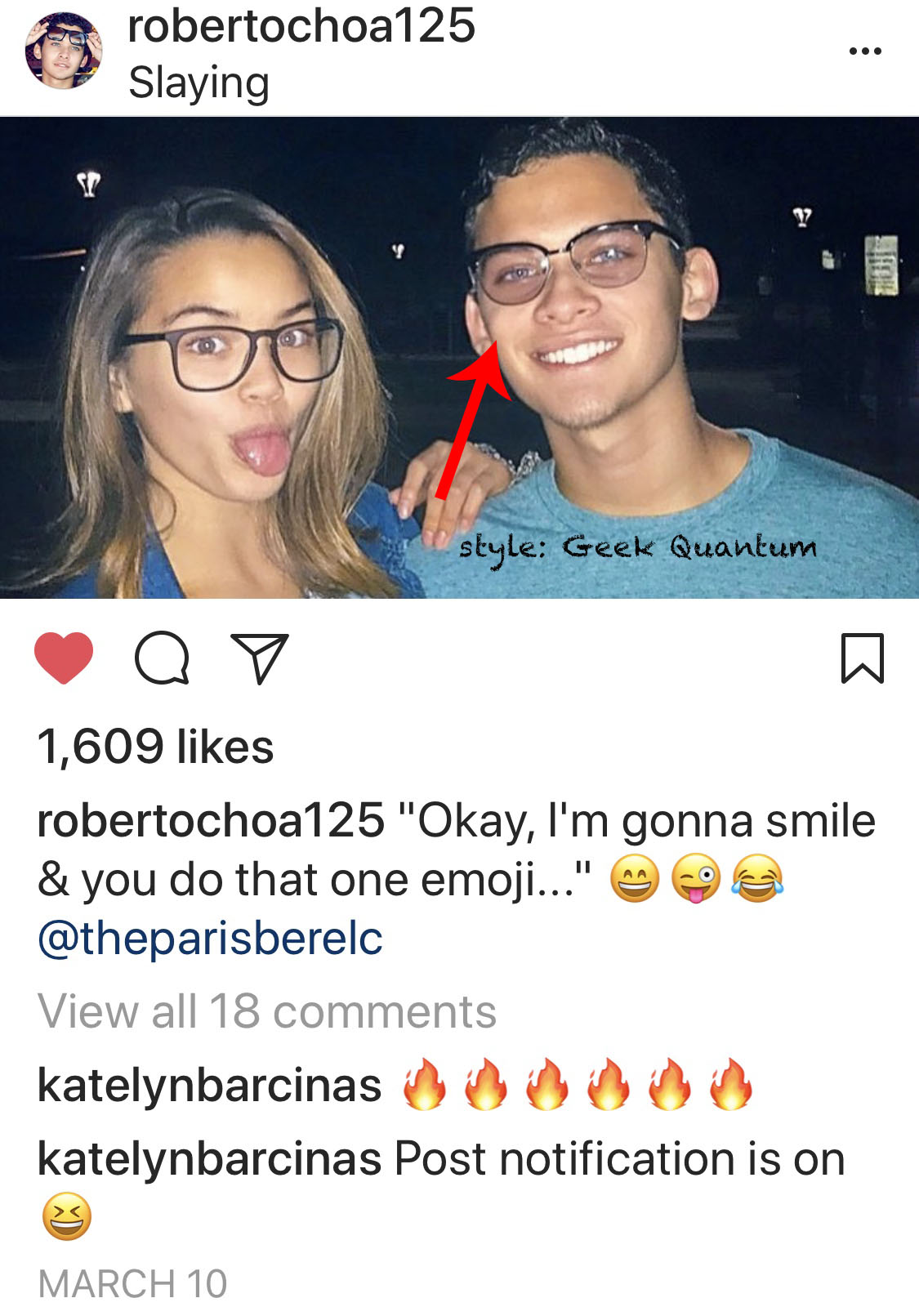 December 4th, 2017
Good Evening,
I received my glasses last week and Have been wearing them over the weekend. I love them soo much!!! The quality of the lenses are work are top notch and I can easily say that these are some of the best glasses I have ever owned.
Other companies say they offer nerd/geek style glasses, but I found the Classic geek style I was looking for with you. Thank you for great communication, quality and price. My next pair of glasses will again be from you and I will tell my friends and family to buy from you as well!!!
Best Regards,
Darren
P.S. I think your collection is awesome and is filled with new designs and modern takes on old ones. It was the search however for a pair of unashamed, old school geek glasses that brought me to you. Be modern but also keep one pair of unashamed Classic geek glasses in your collection, all the time please.
On Instagram @lovelyblasphemy Thanks for posting it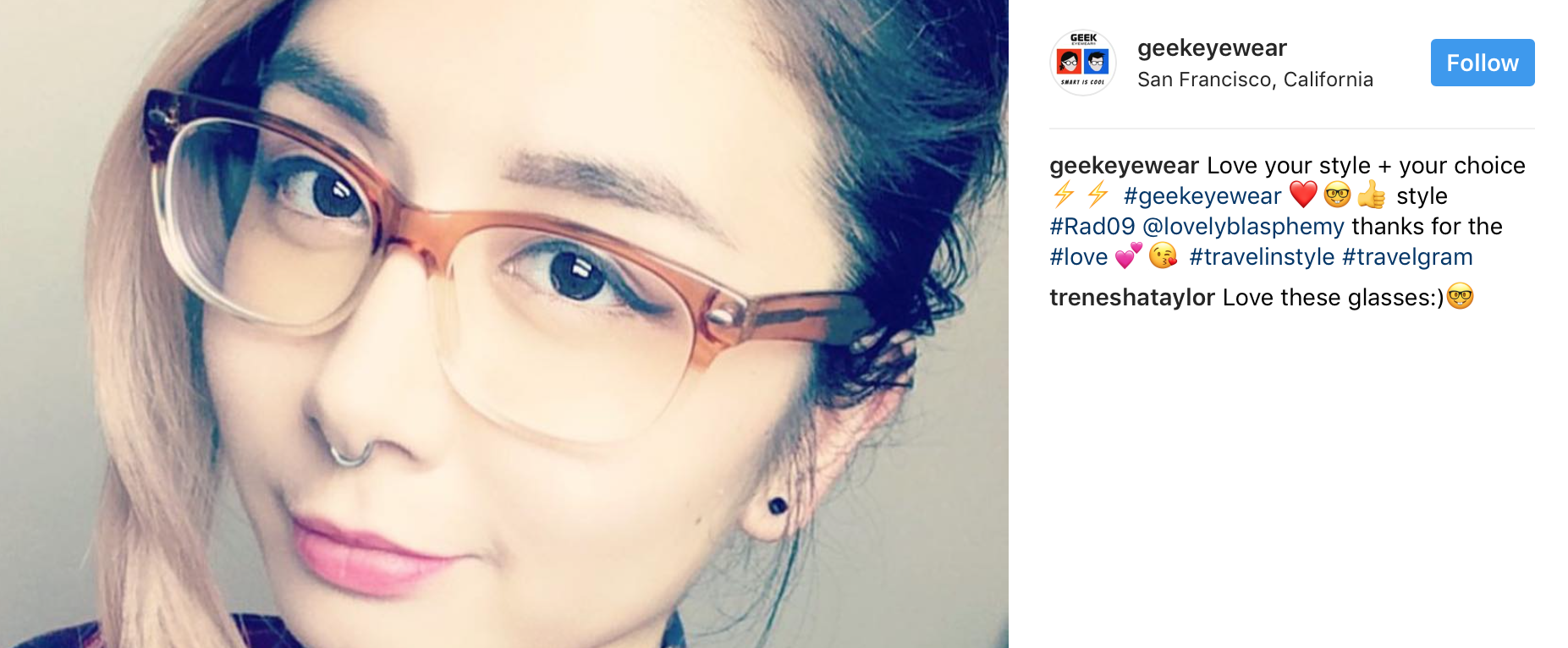 November 15, 2017 by Tani who purchased style Fancy Cat

November 10, 2017 by Mike who bought style Gamer. Yay!!

September 14, 2017
GEEK Eyewear Reviews + Feedback From Our Customers: Friends + Family!
April 4, 2017 Geek Eyewear style RAD 09 Junior


January, 2017 Geek Eyewear style Traveller in Crystal Clear

January, 2017 Style Aristocrat

January, 2017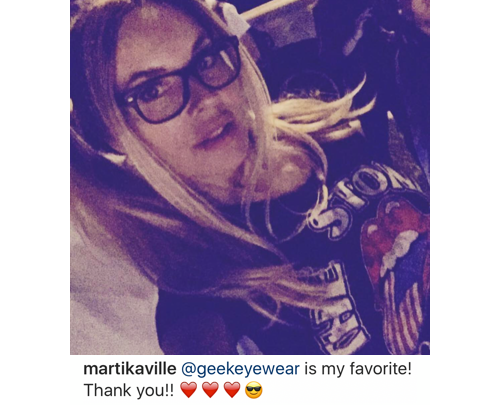 December 24, 2016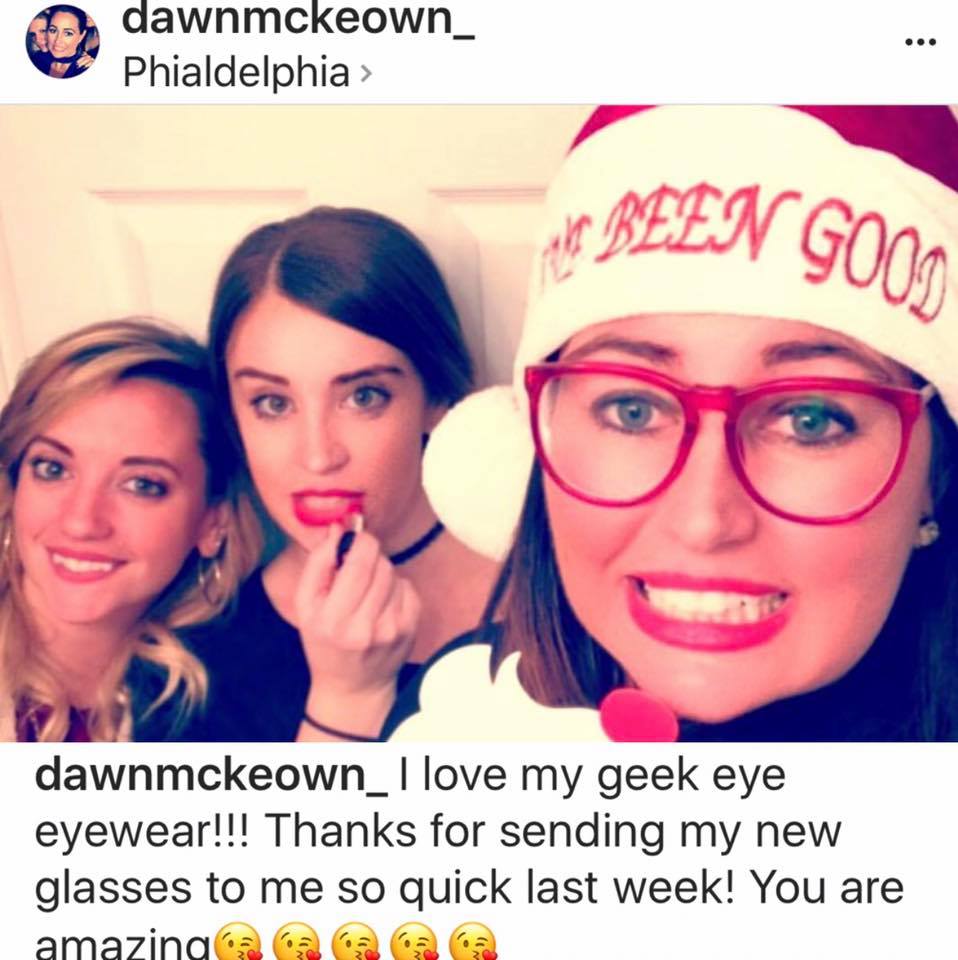 December 3, 2016
Dear Geek,
Thanks for all of your assistance, much appreciated. You all are a pleasure to deal with.
I am a glasses lover, I have 10 pairs and my Red Rad 09 Jr. are my favorite and the ones I seem to wear the most, so I can't wait for my new Radiant Orchid and Dark Violet Rad 09 Jr!! I also loved the Geek 101! Bring them back, please!!
Here's me wearing my red ones. Thank you again for everything and Happy Holidays!!!
Jenny from New York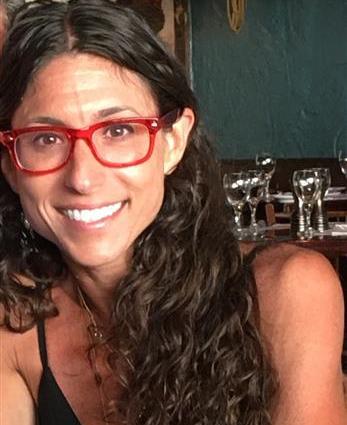 November 15, 2016
Geek Eyewear style Geek 201.
August 11, 2015 Geek Eyewear style Harry Review

July 29, 2013 Geek Eyewear style Harry Review by Hillary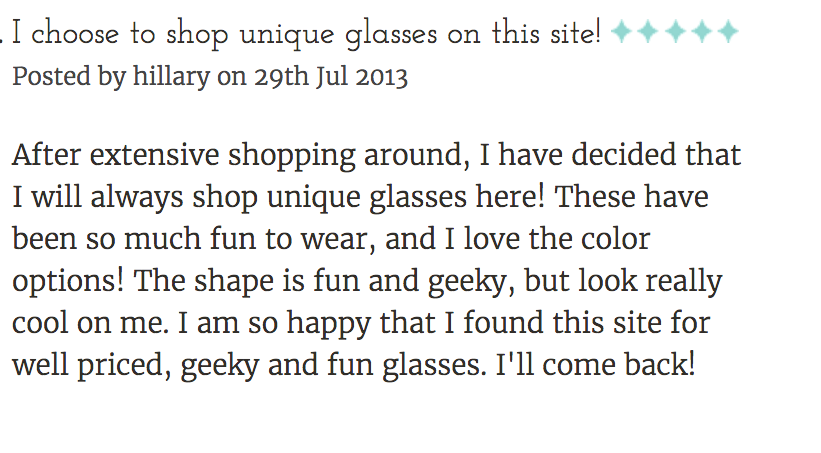 May 27, 2018
Jerimiah Graham and Jessica - Geek Eyewear Customers. Yay!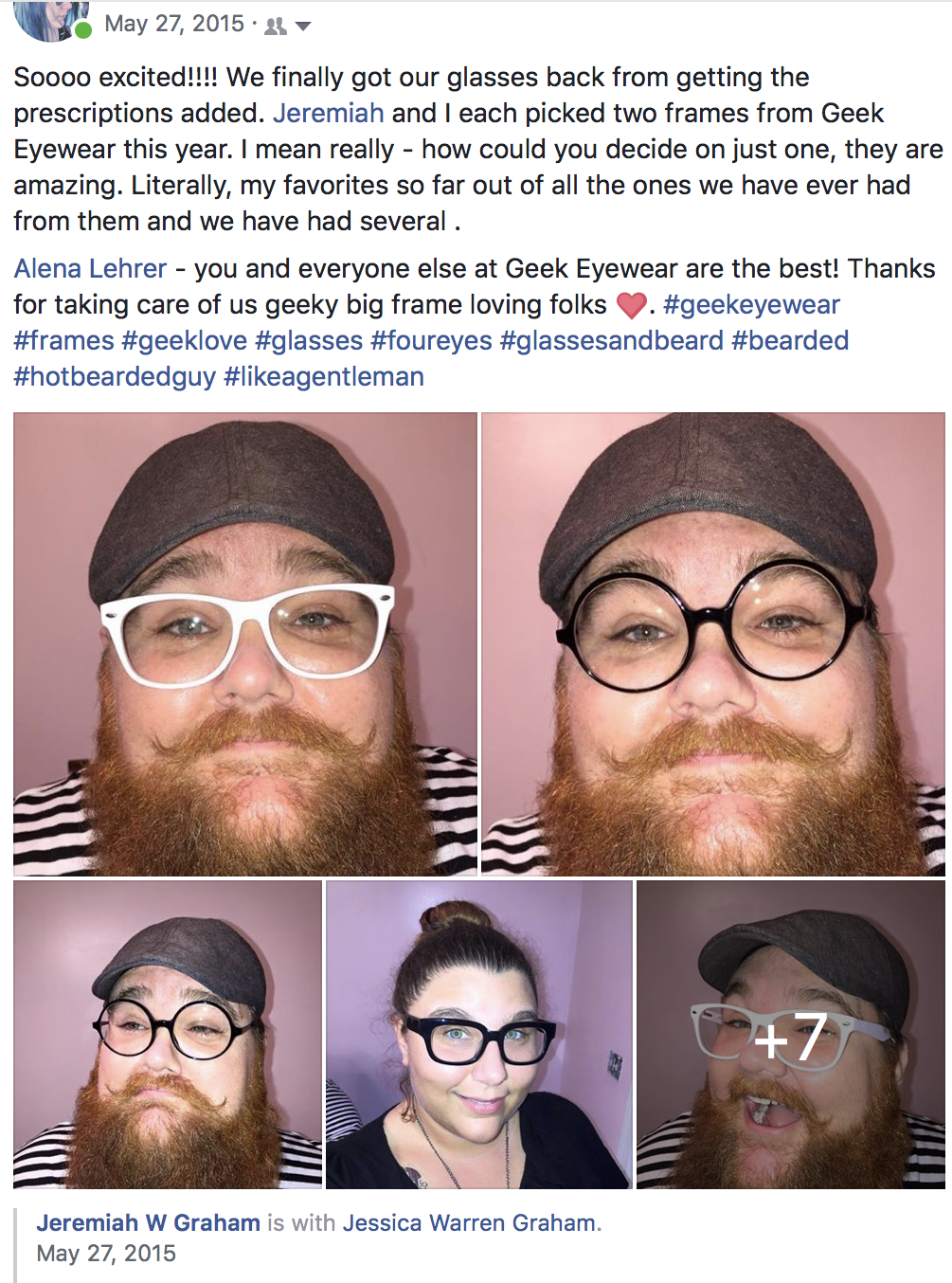 FIND MORE REVIEWS/PHOTOS/FUN ON INSTAGRAM. TAG US TO BE FEATURED.