OUR BIO
ENHANCING EYESIGHT FOR ALL.
Leading designer and marketer of optical frames, GEEK Eyewear® celebrates diversity, individuality and the creative enthusiasm of Geek culture. Considered the new chic, the "Geek lifestyle" has extended to all areas of pop-culture including fashion, sports, technology, music, gaming, film, art and entertainment. In that very spirit, GEEK Eyewear® embraces the Geek in every one of us, with a range of styles for men, women and teens.
GEEK Eyewear® offers a wide variety of frames in over 40 different styles in thousands of boutiques throughout the US and online at the brand's one-stop-shop – https://shop.geekeyewear.com. Online, consumers have the option of ordering RX eyeglasses, sunglasses or Ready-To-Wear (RTW) fashion eyewear without a prescription. The RTW fashion frames have clear CR-39 lenses and ideal for the stylish consumer who wants to look smart and fashionable.
All of GEEK Eyewear®'s frames are 100% ophthalmic quality – the same standards used by eye doctors! Consumers also have the option to purchase Geek Eyewear's frames online and take them to an optical lab or favorite eye care shop to have their prescriptive lenses installed. Our frames made in China. Geek Couture Collection is Handmade in Italy.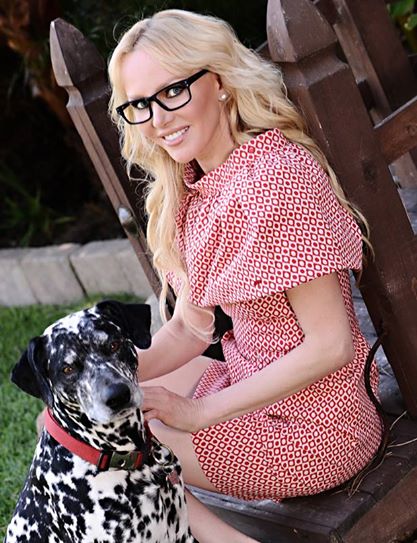 Alena Lehrer, Founder of GEEK EYEWEAR® and GEEK COUTURE®.
Before you order RX eyeglasses, please check if you have a valid eyewear prescription and your pupillary distance (PD) information. Your PD is the distance in millimeters between your pupils. If your doctor did not include your PD on your prescription, please contact your optician. Once you have your PD, you can either hand-write it onto the copy of your prescription before scanning, type it into a note's field when ordering, or submit the measurement to our email: info@geekeyewear.com.
GEEK Eyewear® supports charitable causes through our "I'm In, Give a Pair" campaign. For every pair of glasses we sell on-line, we match the sale by providing a pair to persons in need. GEEK Eyewear® also have worked with charities like the Unite for Sight, Make-A-Wish, Dress for Success, Stuart House, Venice Family Clinic and the Adventure Project.
FREE GEEK CHIC EXCLUSIVE 5-PC. GIFT with Any Purchase (Available ONLY ON-LINE)


A SUPER COOL AUTHENTIC GEEK CHIC CASE

FREE SHIPPING IN THE UNITED STATES BY FEDEX 2day DELIVERY

100% OPHTHALMIC QUALITY CLEAR CR-39 LENSES (ZERO POWER)

SUPER GEEKY MICRO-FIBER CLEANING CLOTH

6 months WARRANTY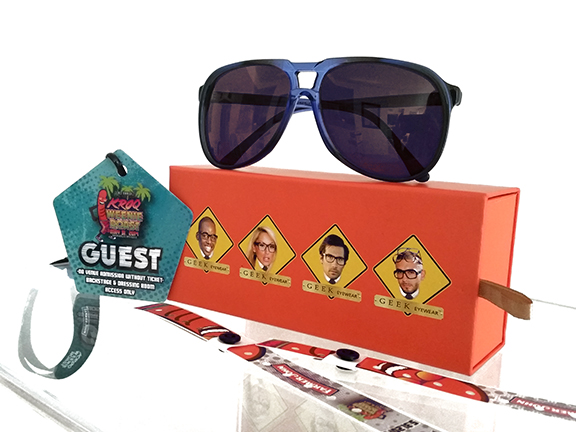 PHILANTHROPY

GEEK EYEWEAR® has worked closely with the following charities:
Unite for Sight

Venice Family Clinic

The Adventure Project

Oceanic Preservation Society

Sea Shepherd

The African Millenium Project

Brits in LA

Stuart House


The UCLA Wooden Athletic Fund

Dress for Success

BRAND PROTECTION
Authentic GEEK EYEWEAR® is available in optical stores worldwide and on-line. To find official optical stores near you, please visit www.geekeyewear.com/geekzipcode.html
If you think you have seen counterfeit GEEK EYEWEAR, you may contact us directly. Please include as much information as possible by describing the merchandise you saw, where you saw it, and any additional information you can provide.
The GEEK EYEWEAR® brand takes every measure to provide you with only the highest quality eyewear. Counterfeit merchandise deceives consumers and deprives them of the quality that our brand name ensures. Since counterfeit merchandise does not undergo our rigorous inspection and testing processes, it does not meet our high standards. We recognize that counterfeiting is a serious, world-wide problem, and we are taking measures to combat the unauthorized production and sale of our merchandise.
For additional information about counterfeit merchandise, visit the following sites: